One question that everyone is going to ask you as a new mom is- Does your baby sleep through the night?! How we wish babies could sleep well and undisturbed as we enjoy our babies a lot more when we are well-rested.


Newborn babies sleep for 14-16 hrs a day during the first two months. They can not differentiate between day and night.

Tiny tummies of babies get full fast and they feel hungry every 2-4 hours. So, it is quite possible that they are up from say 1 am to 5 am! Most babies start sleeping for at least 6hrs at a stretch during 3-6 months. However, due to the developmental changes in their bodies, they may suddenly wake up to find you if they are used to sleeping with you.
Initial months with the baby are generally very hard for the parents. But you can follow these simple tips to help the baby sleep better:
1. Bed Time Routine 


As per a study, it is believed that infants who follow a bedtime routine, sleep easier, better and cried in the middle of the night less often.
Try to play quiet games in the evening to keep your baby from getting too excited right before bedtime.
Keep activities the same for every night so that the baby gets used to it and understand that nighttime is sleeping time. Some babies enjoy bathing before sleeping as it relaxes them.
Many babies enjoy bathing right before bedtime, which calms them down.
Save your baby's favourite activity for last so that she looks forward to bedtime 
Even if the baby wakes up in the middle of the night, the sounds and lights in the room should be the same as when she fell asleep.
2. Day nap(s) is important
Don't try to keep your baby up during the day hoping she will sleep better at night. This is a major mistake most parents do. Overtired babies are not able to have sound sleep at night often. In fact, active babies who've had slept enough during the day have a more sound sleep as proven by experts. 
3. Ensure a safe sleeping environment for the baby

Babies should sleep on their back or side preferably, not on the stomach. Sleeping on the left side is recommended by doctors as it keeps the digestion system smooth.
Babies should sleep on a firm surface and blankets, quilts, swaddled, pillows should be kept away from the baby's reach as you don't want the baby to cover her face accidentally in sleep.
Ensure that the baby is not feeling too hot and is not over-layered. If your child is sweating or is too uncomfortable, check the layers.
4. Share the room but not the bed preferably

Ideally, your baby should sleep in your room with you, but not in the same bed for at least six months as it helps decrease the risk of sudden infant death syndrome (SIDS). Use a crib or other structure designed for infants as our beds aren't safe for infants. Your baby can suffocate if a sleeping parent accidentally rolls over and covers the baby's nose and mouth.
5. Don't Feed baby to sleep

Most babies fall asleep during feeding. However, if this becomes a habit, your little one will look for feed anytime during the night only for the pleasure of sucking and not due to hunger. And the issue is 'that you are the only one who can put her to sleep' in that case.
I suggest you try to feed her earlier and then read a book or play a soothing song. Tuck her in drowsy but awake. You may still need to feed at night but that will be for hunger not for soothing.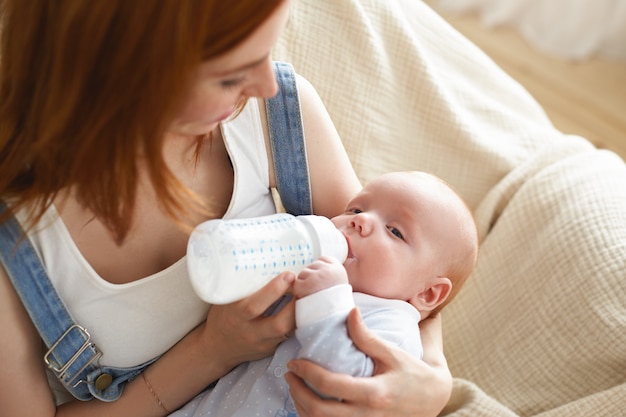 6. Don't Overthink
Sometimes no matter what you try, your little bundle of happiness will always manage to surprise you. So don't worry and don't overthink about it. Many moms spend hours googling about how to make baby sleep longer and so on. It's ok! Relax and give your child some space to show what she is capable of.
If any of these tricks work for you, don't forget to share with us in the comments below.
Sweet dreams!

Written by Momzjoy Super Mom, Amaira Sen